Cerro de Monserrate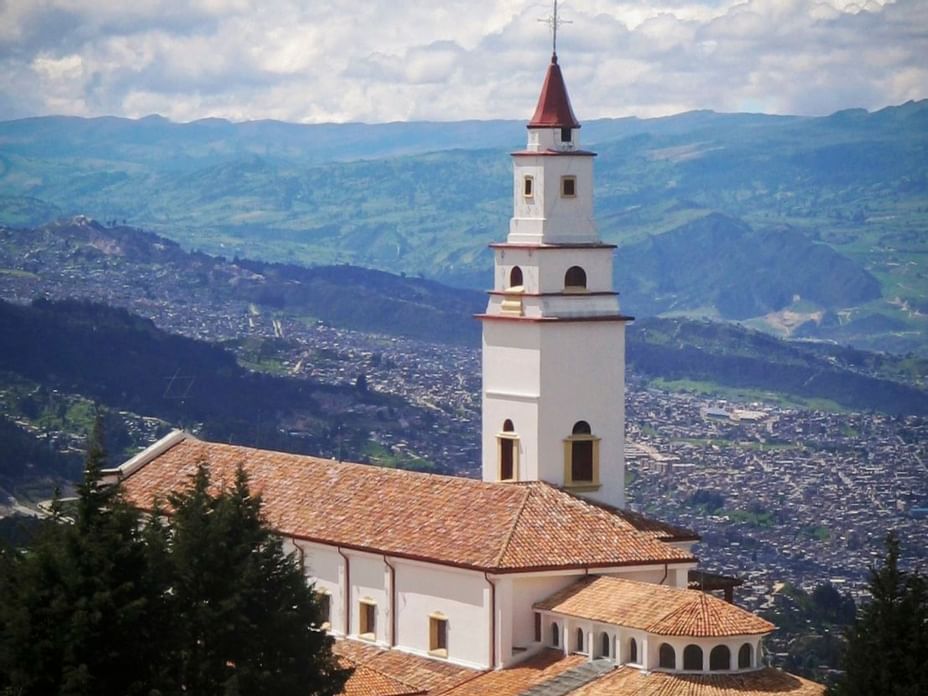 Monserrate (named after Catalan homonym mountain Montserrat) is a high Mountain over 10,000 feet high that dominates the city center of Bogotá, the capital city of Colombia. It rises to 3,152 meters (10,341 ft) above the sea level, where there is a church (built in the 17th century) with a shrine, devoted to El Señor Caído (""The Fallen Lord"").
The Mountain, already considered sacred in pre-Colombian times when the area was inhabited by the indigenous Muisca, is a pilgrim destination, as well as a major tourist attraction. In addition to the church, the summit contains restaurants, cafeteria, souvenir shops and many smaller tourist facilities. Monserrate can be accessed by aerial tramway (a cable car known as the teleférico), by funicular, or by climbing, the preferred way of pilgrims. The climbing route was previously closed due to wildfires and landslides caused by a drought, but it reopened in 2017.
All downtown Bogotá, south Bogotá and some sections of the north of the city are visible facing west, making it a popular destination to watch the sunset over the city. Every year, Monserrate and its neighbour Guadalupe attract many tourists.
Photo: Monserrate "File:Santuario de Monserrate, Bogotá.jpg" by MARCO CARDENAS is licensed under CC BY 2.0
Carrera 2 Este #21-48, Paseo Bolívar 250002 Chía Colombia